Spring is in the air! And I have TWO great giveaways for you, both courtesy of
Cool Main Press
.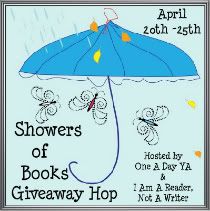 I'm linking up with
I Am A Reader, Not A Writer
and
One A Day Y.A
to offer you a chance to win one of
three
copies of each of the following
two
books:
Be sure to check out the hundreds of other bloggers participating in this blog hop for more great prize opportunities. The list is included at the end of this post.
~ ~ ~ ~ ~ ~ ~ ~ ~ ~ ~ ~ ~ ~ ~ ~ ~ ~ ~ ~ ~ ~ ~ ~ ~
AN ELECTION OF PATRIOTS,
a novel in their own words
It didn't just happen that soundbite television came to trivialize policy.
Someone willed it. A very surprising someone.
With the best possible intentions. For the best possible reasons. In all sincerity.
To save the Republic. To elect the best possible President.
A crime of influence. Perpetrated by real people.
Who paid a real price.
This is their true story. In their own words.
DON'T FIX THE BLAME UNTIL YOU'VE READ THIS BOOK!
Requiem at Monza
by Dakota Franklin
I'm Joanne Bartlett. I was educated in Tennessee and Washington. I took my twin Ph.D.s in instant action from the Ivy League of controlled violence, Quantico and the Secret Service of the Treasury. My finishing school was a high-speed dash across France in a Bentley Arnage Red Label.
Joanne is a 6 foot 4 inch legend in her profession for taking a bullet for the President. But she wakes up angry every morning because at 28 she is too tall, too beautiful, and too dangerous, simply too much to get a man.
Now Joanne, making her mark in private industry, is seconded from security consultants Harrington's to help the auto racing house Armitage sort out a vicious judicial muddle in Italy. Jack Armitage himself is charged with the murder of Silvio Ferrara, who died in an accident in the Italian Grand Prix at Monza. It will destroy the firm.
Mired in a mass of impenetrable Italian immorality, fearful that she and her Armitage helpers will be killed by the Camorra (the northern Italian Mafia), whose role in the interlinked crimes is obscure, Joanne meets deceit with deceit and violence with a bigger body count.
'There is something about me you should know, Ludo. I try hard for what you might call sophistication, but underneath the veneer I'm a barbarian. My violent instincts have been nurtured, trained, honed to perfection by my family, my community, my government and my peers, for instant, mindless application.'
REQUIEM AT MONZA is the second novel to be launched in Dakota Franklin's grand series RUTHLESS TO WIN. The first volume, LE MANS a novel has already appeared on bestseller lists in four countries.
~ ~ ~ ~ ~ ~ ~ ~ ~ ~ ~ ~ ~ ~ ~ ~ ~ ~ ~ ~ ~ ~ ~ ~ ~
About the Authors:
Andr

é

Jute
You may recall that I have interviewed
André in the past about his book IDITAROD: A Novel of the Greatest Race on Earth. I gave that book a 5/5. You can read my review and interview with
André
here.
André Jute
was educated in Australia, South Africa and the United States. He has been an intelligence officer, racing driver, advertising executive, management consultant, performing arts critic and professional gambler. His hobbies include old Bentleys, classical music (on which he writes a syndicated weekly column), cycling, hill walking, cooking and wine. He designs and builds his own tube (valve) audio amplifiers. He is married to Rosalind Pain-Hayman and they have a son. They live on a hill over a salmon river in County Cork, Eire. There are around three hundred editions of his books in English and a dozen other languages.
André
is the author of such lyrical novels as
IDITAROD a novel of The Greatest Race on Earth
(
see my review
) and, equally, of such abrasively true, hyper-controversial books as
STIEG LARSSON Man Myth & Mistress
(
reviewed by Matt Posner)
. He will be publishing two more political books during the election, Eight Days in Washington a novel, about a sexual predator circling in on the White House, murdering the next President's college drinking buddies along the way, and It's the Economy Stupid, an Ivy League/Oxbridge/Rhodes Scholar Education in Political Economy in One Hour, which does what it says on the tin, make you sound hyper-smart at cocktail parties.
Ways to connect with
André:
Dakota Franklin
I recently had the pleasure of introducing Dakota Franklin and her new series RUTHLESS TO WIN. You can read that post here. The first book published in that series is LE MANS. Together there are thirteen books in the series, which may be read in any order. Requiem at Monza is the second book to be published in the series.
Dakota Franklin was born in Palo Alto, CA, the daughter, granddaughter and great-granddaughter of automobile engineers. It was therefore predictable that she would become an engineer. Her mother, an educationalist, didn't believe in putting children in boarding schools, so Dakota travelled the world, wherever her father consulted. By the time she was ten she could swear fluently in every European language, and carry on a conversation in all the major ones.
After college at Stanford and MIT, and further postgraduate studies in France, Germany and Italy, she worked on jet engines for Rolls-Royce, for Ford and Holden (GM's Australian branch) on high performance vehicles (HPV), then joined her father and grandfather in the family consulting business, where she has specialized in high performance machinery. She has since worked on contract or as a consultant with all the major automobile makers with a racing or HPV profile, and in powerboat and propellor plane racing. She insists racing regulators around the world love her, whatever they may say behind her back!
Dakota started writing in 1996 when a painful divorce coincided with a testing incident that put her in hospital for several even more painful months. After a false start which resulted in having to trash three complete novels, she finally acquired the right creative writing guru, and started creating the series RUTHLESS TO WIN.
She lives in Switzerland with her husband, an inventor, and drives or flies to the motor cities for her current consulting projects. She has one child, a teenager who travels with her and whose eclectic schooling has turned her into a linguist, just like her mother, but who has no intention of becoming an engineer.
Dakota says, "I'm finally happy. Fulfilled may not be too large a word."
Ways to connect with Dakota:
~ ~ ~ ~ ~ ~ ~ ~ ~ ~ ~ ~ ~ ~ ~ ~ ~ ~ ~ ~ ~ ~ ~ ~ ~
~ GIVEAWAY ~
Enter for a chance to win one of:
3 copies of AN ELECTION OF PATRIOTS
by

André Jute
3 copies of REQUIEM AT MONZA
by Dakota Franklin
a Rafflecopter giveaway
~ ~ ~ ~ ~ ~ ~ ~ ~ ~ ~ ~ ~ ~ ~ ~ ~ ~ ~ ~ ~ ~ ~ ~
And don't forget to visit these other bloggers for more great giveaways!